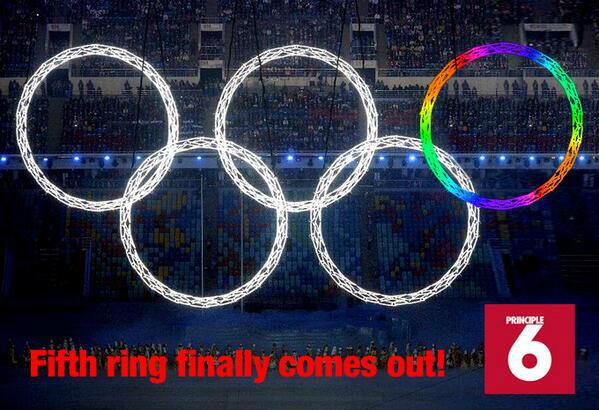 Ahh the Olympics. Celebrating the human spirit and an artificial sense of world unity. For the next two weeks all eyes will be on Sochi as we enjoy the Olympics.
Friday night, Russia showed off its power and pride at the Opening Ceremonies. In the spotlight were ballroom dances,  fancy projectors, and gay propaganda laws. Let's talk about the latter.
ABC news explained the law and its consequences. Basically, the goal is to restrict minors from seeing anything that would communicate that gay relationships are normal. This means gay rights protests and even gay public displays of affection are illegal.
The law itself was a way for not-always-popular Vladimir Putin to gain support with traditional, conservative Russians. A Wall Street Journal article detailing the law states, "In a recent survey by the state-run Vtsiom polling center, 88% of respondents said they agreed with the ban. A poll by the independent Levada Center in May found that 47% of Russians thought that gays should not enjoy the same rights as heterosexuals. "
Russians themselves were in favor of the law when it passed last June. The rest of the world didn't make much noise.
Enter the Olympics. The global community focuses on the huge country with its imprisoned rock stars and broken special effects. And for two weeks we care.
Google debuted a colorful Olympic logo Friday.
German President, Joachim Gauck, boycotted the games because of the law.
President Obama sent gay representatives for both the opening and closing ceremonies.
And Putin isn't really concerned. Because he knows that just like in Beijing, and every other time the Olympics are in a controversial area, we will forget.
So on one hand, the Olympics are good for gay Russians because for two weeks we really care about them.
On the other hand the situation is good for Putin and the government because for only two weeks we really care about them.
For most of us, when the two weeks are over we will get back to our day-to-day lives. And if you're like me and live in Utah, or any of the other 8 states in red on this map, you have similar anti-gay propaganda laws prohibiting the discussion of homosexuality in schools.
The bottom line is, what I consider about the Russian gay propaganda laws doesn't really matter because Russia will only change if Russia wants to. And Russia doesn't really have any pressure to change when a significant portion of the US has its own discriminatory laws.
So maybe in the future I will consider the validity of those laws, but right now I'm going to go root for some skaters whose names I will forget in a couple weeks.